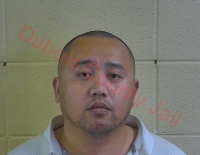 Jasper Police arrested a man Wednesday afternoon for Domestic Battery in the Presence of a Child Less than 16-Years-Old.
Officers arrested 36-year-old Fei Tian of Jasper following an investigation into a report of a physical altercation between a man and a woman in their home on Downey Street.
Tian was booked into the Dubois County Security Center on $750 cash bond.