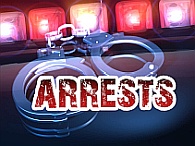 Washington Police arrested three Washington residents on drug charges Wednesday.
39-year-old Nichole Wells is facing preliminary charges of Possession of a Schedule 2 Controlled Substance, Possession of Paraphernalia, and Possession of Marijuana.
49-year-old Percy Lyford is charged with Possession of Marijuana and Maintaining a Common Nuisance.
And, 48-year-old Jerry Simms was arrested for Dealing in Methamphetamine over 10 Grams and Possession of Meth.
Sims and Lyford are being held without bond in the Daviess County Security Center.
Wells is being held on $2,500 bond.
214 inmates were being held in the Daviess County Security center Thursday morning.