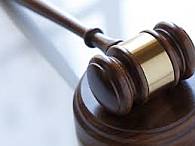 A southern Indiana judge who got into a fight last spring outside an Indianapolis White Castle will not go to jail.
Judge Andrew Adams' plea bargain means that he won't serve his one year sentence in county jail.
The agreement also dismisses any and all felony charges against him.
Adams pleaded guilty to a misdemeanor battery charge yesterday.
Police say Adams got into the fight back in May in downtown Indianapolis after he and another judge had words with two men in the restaurant's parking lot.
One of those men is being offered the same deal as Adams, the other is facing 14 felony counts for pulling the trigger.