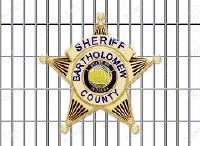 The Bartholomew County sheriff SAYS he has suspended three deputies after learning they failed to properly serve an emergency detention order to a man who later was shot in someone else's home.
Lt. Gary Knoef, Sgt. Jason Lancaster and Sgt. Jason Williams have each been suspended 15 days without pay for their roles in the failure to detain Derek Henderson.
They will also be demoted.
Henderson was shot and killed January 4th after he used a baseball bat to confront a homeowner in his home around 1 a.m.
Officers were ordered the day before to detain Henderson for emergency treatment for the health and safety of himself and others.