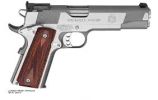 State Police are working to fix loopholes in the Illinois Firearm Owners Identification Card system.
The efforts come almost one year after a gunman killed five people in an Aurora factory shooting.
That gunman, Gary Martin, was able to get an FOID card in spite of being a convicted felon.
The proposed legislation would require mandatory fingerprinting for renewing or getting a new card.