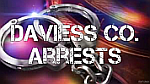 Washington Police arrested a Washington man Tuesday on a Court Order Violation for Bribery.
33-year-old Kevin Flax is being held without bond in the Daviess County Security Center.
Washington Police arrested 47-year-old Tonya Cress of Washington Tuesday for Possession of Paraphernalia and Criminal Conversion.
Bond was set at $2,000.
And, Indiana State Police arrested 58-year-old Kelly Wininger of Loogootee in Daviess County Tuesday for Operating While Intoxicated Prior, Operating While Intoxicated Endangerment, and Driving While Suspended.
Wininger is being held on $2,500 bond.
138 inmates were being held in the Daviess County Security Center Wednesday morning.