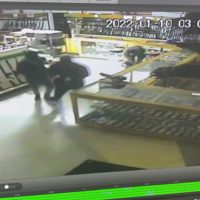 Five people have been taken into custody in connection with the burglary of Cosner's Gun and Knife Shop in Bedford early Tuesday morning.
Several firearms were taken during the break-in.
The five were apprehended following a joint investigation by Bedford Police and the ATF's Columbus Field Division.
Tips were received that helped police identify the three individuals seen on security video in the store.
Search warrants were obtained for several Bedford homes and multiple stolen firearms were found.
The individuals in the burglary were identified as 19-year-old Calvin Levi Johnson of Bedford and two 15-year-old males, also from Bedford.
19-year-old Ian Canfield of Bedford was arrested for Assisting a Criminal and a 16-year-old juvenile was arrested for Possession of Stolen Firearms.